Driving and office services
location
Dübendorf / Canton of Zurich
Driving and office services

Since 1990, the end-of-year Nez Rouge campaign has been a symbolic and at the same time very concrete gift to motorists during the holiday season.

People volunteer in their region to drive their fellow citizens home in complete safety. For 30 years, the campaign has been raising public awareness of the consequences of getting behind the wheel when unfit to drive. Nez Rouge also promotes the designated driver principle: within the group, a driver who is fit to drive is designated in advance to get everyone home safely.

We are looking for drivers, telephone operators, dispatchers
Duration:
One or more evenings, depending on availability.
Each shift lasts from 8:00 p.m. to 3:00 a.m.
Nez Rouge during the festive period:
from 30 November 2023 to 19 December 2023, evenings from Thursday to Saturday.
From 20 December 2023 to 1 January 2024, every evening from Monday to Sunday.
Location:
The meeting point and start of the journeys is in Dübendorf.
The journeys take place in the canton of Zurich and nearby surroundings.
The telephone service and dispatchers are located in Dübendorf.
How it will work:
Depending on the role, the process is as follows:
As a driver, you are always part of a team: one person drives the team car and the second person drives the customer's vehicle.
As a telephone operator, you are stationed at the Dübendorf headquarters, accept customer orders during the campaign period and enter them into the scheduling tool
As a dispatcher, you are stationed at the Dübendorf headquarters, allocate the orders to the teams in the scheduling tool, keep in touch with the teams and also answer the phone on quieter evenings.
Introduction:
A short briefing takes place on the evening of the assignment.
Each function has its own job description, which can be accessed in Nez Rouge Zurich's internal tool.
Support:
The Nez Rouge representatives are available to answer any questions you may have.
Interaction with other volunteers, invitation to helpers' dinners and other events
Tasks:
Your involvement will depend on the role:
As a driver, you are confident and safe behind the wheel.
As a telephone operator, you appreciate the contact with customers.

As a dispatcher, you are happy to use and expand your knowledge of geography.
What you'll need:
As a driver, you need a valid driver's license and to abstain from alcohol and other substances during your shift and the 24 hours before it starts.
As a telephone operator, you should enjoy making phone calls.
As a dispatcher, knowledge of the local area is an advantage, but not a must.
Note:
A valid identity card is required to access the headquarters, as we are located on a secure site
Project language
German, English
Our project partner:
Nez Rouge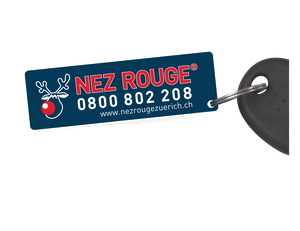 Nez Rouge is a campaign designed to prevent accidents and raise public awareness of road safety at a national level, with the declared aim of reducing the number of road accidents caused by impaired driving ability.