Main content
Area sponsor against littering
Do you want to help keep the environment clean? Then become an area sponsor and join the fight against littering! Area sponsorship is where individuals or groups (e.g., families, clubs) volunteer to help remove litter from an area of their choice. This plays an important role in keeping the environment clean and improves the quality of life in public spaces. It is an initiative which leads to noticeably less litter.
Duration:
Frequency and volunteer time are entirely down to the individual.
Location:
Location and size of the area by agreement with the municipality.
How it will work:
The IGSU will contact the municipality in question to discuss the possibility of an area sponsorship project.
The area is determined in consultation with the municipality. You may of course make your own preferences known.
You will regularly tidy up a specific area in your municipality.
Public notices will be put up to make others aware of the initiative. This way, the area sponsors who live locally will be associated with that area.
Introduction:
MY Raumpatenschaft (MY space sponsorship) is a free tool provided by the IGSU which minimizes the amount of organization required for an area sponsorship project.
Induction takes place in conjunction with the municipality and the IGSU.
Support:
Support is provided by the municipality and the IGSU.
Tasks:
The collection of litter in a specific area.
Proper disposal / recycling of the litter.
(The municipality usually pays the costs of disposal)
In general, a lot is left to individual choice, such as how frequently you remove litter from the area in question.
What you'll need:
Project language
German, French, Italian
Our project partners
IGSU - Interest group clean environment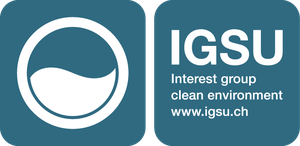 As the Swiss center for excellence for issues pertaining to litter, the Interest Group for a Clean Environment (IGSU) is dedicated to making the country cleaner. The IGSU proactively implements several different measures throughout Switzerland to prevent and raise awareness of littering. The group's chief aim is to prevent littering in the long term by encouraging people to change their attitudes and behavior.
Please contact our expert partners directly by email or phone to clarify the details of your project assignment.
Implementation partners
IGSU